I love chia seeds, but I've only tried it in my lemonade.  When I first heard about this chia seed pudding, I knew had to try it.  After all, chia seeds are known to be a mini powerhouse packing more calcium than milk, more antioxidants than blueberries and more Omega-3 than Salmon.  The chia seed is one of the oldest forms of nutrition in Mexico, Guatemala and other Central American Countries, dating back to ancient Mayan and Aztec diets, where it is a known source of Omega-3, rich in calcium and a good source of dietary fiber.
If you've never tried chia, be prepared for their texture can take a little getting used to. People either love it or hate it, not because of it's taste, but because of its ability to thicken and gel.  In fact, chia seeds don't taste like anything, which makes it so versatile and are a great protein-packed addition to many recipes.
What is Chia Pudding?
Chia seed pudding is a simple and delicious way to enjoy a superfood breakfast, especially if you're on-the-go.  It takes minutes to make with only a few ingredients.  Because of its versatility, you can make any flavor you choose, like adding fresh berries, chocolate powder and even PBJ.  The best part of this delicious breakfast is that its low in sugar for those health conscious foodies.  Goya Foods has all the ingredients you need to prepare your favorite Chia Seed Pudding.
Blueberries con Chia Seed Pudding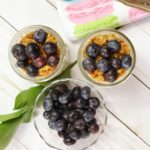 Print This
Ingredients
4 tbsp. Chia

½ cups Instant Oats

2 cups almond milk or milk of your choice

½ tsp. Vanilla Extract

1 tbsp. Honey or Agave
Instructions
Whisk together almond milk, organic chia seeds, instant oats, vanilla and honey until combined.
Cover and place in refrigerator; allow it to set for 4 hours or overnight.
Separate equally and top with fresh fruit or granola.