To ensure good luck in the New year, it's customary to eat crisp bunuelos with brown sugar syrup from a clay bowl and then break the bowl. I've been dying to enjoy this festive tradition in Oaxaca during New Year's Eve. I hear that shortly after the stroke of midnight, broken pottery is everywhere. Thousands of rustic clay bowls are made especially for this celebration. The bunuelos can be served with the light syrup or simply sprinkled with cinnamon and sugar.
Buñuelos - Crisp Fried Pastries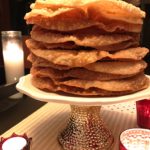 Print This
Ingredients
1 cup all-purpose flour, plus more for kneading the dough

2 teaspoons sugar

1/4 teaspoon salt

1/4 teaspoon baking powder

1 large egg, beaten

1/4 cup milk

1 tablespoon unsalted butter, melted

Oil for frying

1 tablespoon sugar mixed with 1/2 teaspoon ground cinnamon (optional)

Brown Sugar Syrup (optional)
Instructions
In a large bowl, whisk together 1 cup of flour, sugar, salt and baking powder. In a small bowl, stir together the egg, milk, and melted butter. Add to the flour mixture and mix thoroughly. Turn out onto a lightly floured work surface. Sprinkle the dough with 2 tablespoons of flour and knead to make a soft smooth dough, 3 to 5 minutes.
Divide into 8 pieces and roll into balls. Cover the balls with a dry cloth and let rest 20 minutes. Place 1 ball on a lightly floured surface and with a rolling pin roll out to a round about 1/8-inch thick. Using your hands, gently stretch the dough to make it even thinner. Some people use their knees to stretch out the dough or a round bowl. Repeat with the remaining balls.
Pour oil to a depth of 1 inch in a large deep skillet. When the oil shimmers, and a small piece of dough sizzles at once, with a long-handled utensil carefully place 1 bunuelo in the hot oil. Fry briefly until the bottom is lightly browned, about 20 seconds. Scoop oil over the top, and turn over with tongs to fry the second side until crisp. Drain on paper towels. Repeat with remaining bunuelos. Prepare the cinnamon-sugar or syrup, if using. Sprinkle or por over bunuelos and serve hot. Enjoy!