Traditional Mexican coffee is brewed with cinnamon, cloves, and hard cones of brown sugar called piloncillo.  Coffee lovers enjoy this sweet brew at home, and in restaurants and coffee houses all over Mexico. You can enjoy this brew for breakfast, during marienda (Mexico's coffee, tea, and sweets break), or at the end of a Mexican meal. Piloncillo can be purchased here in Latin American markets and the Mexican section of many supermarkets.
Café de Olla - Mexican Coffee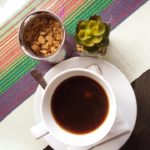 Print This
Ingredients
4 cups water

4 small (1 ounce) cones of piloncillo, or 1/2 cup packed dark brown sugar

2 cinnamon sticks (Mexican canela preferred)

3 whole cloves

3/4 cup coarsely ground dark roast coffee
Instructions
Put the water in a medium saucepan and add the sugar, cinnamon, and cloves. Bring water to boil, stirring, until the sugar is melted, about 5 minutes.
Stir in the coffee, and remove the pan from the heat. Cover, and let steep 8 minutes. Strain the coffee through a coffee filter or a fine-mesh strainer into a heatproof coffee server. Serve at once.