Bubbling, hot melted cheese (queso fundido) with crumbled spicy chorizo comes to the table in a hot skillet ready to be eaten with corn or flour tortillas.  The cheese is scooped up with pieces of tortilla and eaten out of hand. This dish must be eaten as soon as it is served, because the melted cheese solidifies as it cools. You could even enjoy with it fresh salsa Mexicana to give it an extra kick and flavor.
Queso Fundido con Chorizo - Melted Cheese with Chorizo Sausage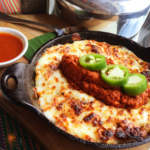 Print This
Ingredients
1/4 pound of fresh bulk chorizo or other spicy sausage, casing removed

3 cups shredded Monterey Jack cheese

8 (6 to 7 inch) corn or flour tortillas
Instructions
Preheat oven to 375 degrees. Cook the chorizo in a skillet, over medium-low heat breaking it up into small bits, about 4 minutes, or until well done. Transfer to a plate.
Grease an 8-inch ovenproof dish or shallow earthenware casserole dish. Spread the cheese in the dish, bake until cheese starts to melt, about 4 minutes. Remove the cheese from the oven. Scatter the chorizo over the top, and return the dish into the oven until the chorizo is hot and the cheese is bubbling, 4-5 minutes.
Meantime, warm up the tortillas and serve at once.