THIS POST WAS SPONSORED BY ALDI. ALL OPINIONS AND THOUGHTS ARE MY OWN.
Without a doubt this past Father's Day was extra special for many Mexican Americans. Why? Because on top of celebrating dads in the U.S., many were also celebrating the 2018 FIFA World Cup game. I don't know about you, but soccer is a big deal in our home, especially when Mexico is playing. So, considering that there was an early morning game this past Sunday during Father's Day and Mexico played against Germany, we had to change up the breakfast in bed theme to a Soccer brunch with the family. But this wasn't an ordinary brunch, it was a challenge. I partnered up with ALDI to prepare a soccer brunch party for dad with only $40! Could I possibly create an authentic Mexican brunch experience with such a small budget and most important, would ALDI carry all the Hispanic ingredients I need? Let's be real here, not all grocery stores carry our precious Mexican spices and fresh produce. We usually have to visit a few supermarkets to find what we need. What could I possibly prepare?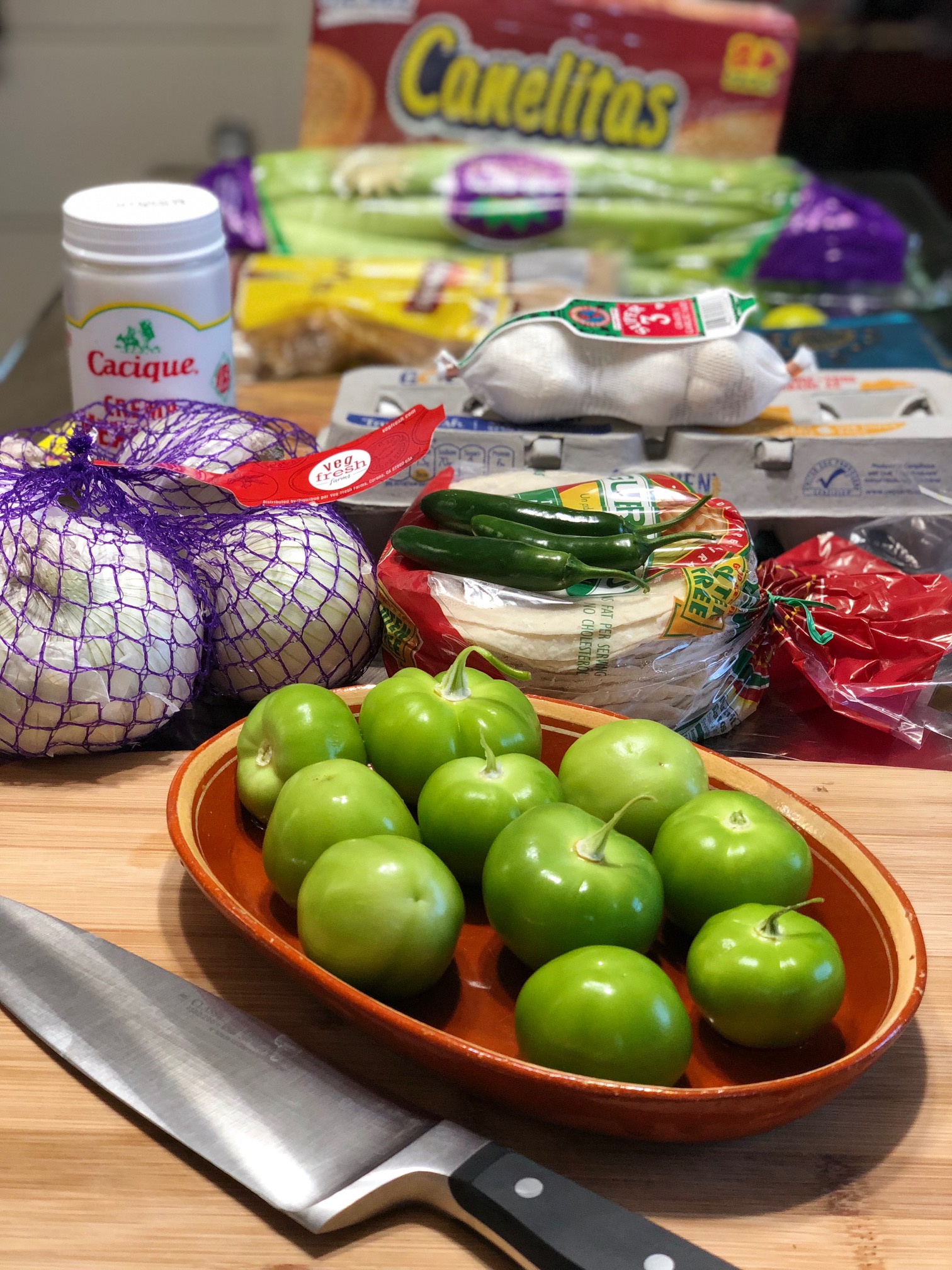 Soccer Viewing Brunch Menu
Traditionally on Father's Day, many U.S. Latinos prepare a carne asada in the backyard and the whole family visits. Well, this Sunday wasn't any different. We just had to kick-off our day a little earlier and prepared a delicious brunch for dad to enjoy with the game.  I still wanted to keep dad's special day authentic and traditional, so I decided to prepare his favorite Mexican breakfast dish along with the must-haves to watch the big game. Considering ALDI has everyday low prices and also carries quality brands, I knew this $40 Brunch Challenge would be easy.
Soccer Viewing Brunch Menu
Chilaquiles Verdes
Micheladas
Canelitas Ice Cream Sandwiches
Budget: $40
The ALDI Experience
You may be thinking, there's no way ALDI has tomatillos and serrano chiles. How is it possible for me to prepare a full authentic Mexican menu under $40? Trust me, I had my doubts too. I didn't think it was possible to find all the ingredients I needed to prepare chilaquiles con salsa verde. But it was a challenge and I went in with high hopes. I just figured if I couldn't find what I needed I would need to come up with a plan B. But it wasn't needed. Turns out ALDI did carry all my ingredients and there was an added bonus, I saved over 50% compared to other grocery stores.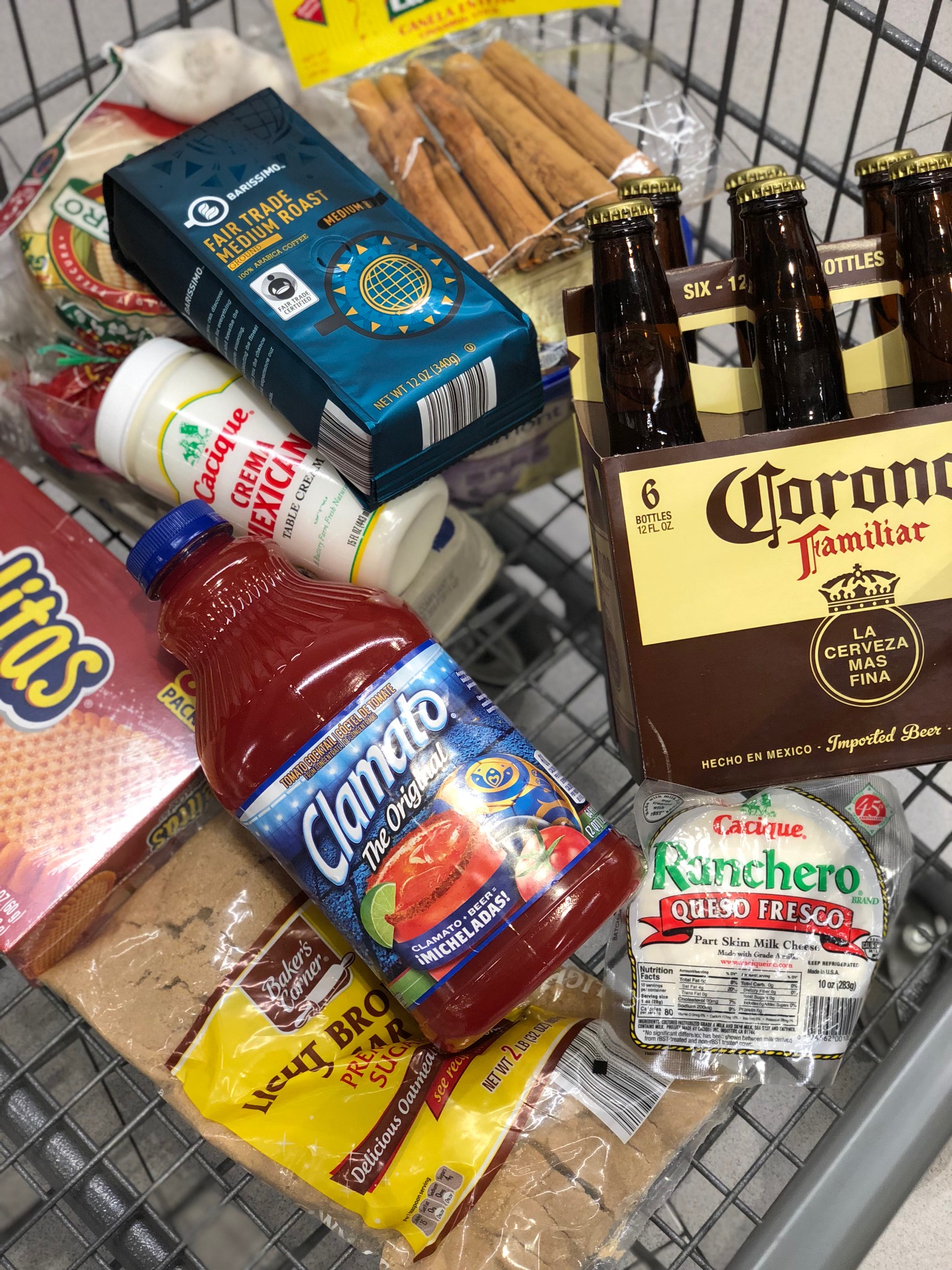 For example:
Tomatillos (.85lb ALDI vs $5.09lb)
Queso Fresco ($2.75 ALDI vs $2.99)
Onions ($1.65 for 2lbs ALDI vs $1.27 for 1lb)
And the best part of this experience, I didn't have to drive to multiple stores to find what I need. If you haven't visited an ALDI store, I recommend it. ALDI offers the best prices in California and there's no club membership required to purchase your favorite ingredients in bulk, plus no coupons needed. It may become your favorite new store. I also learned that ALDI was named as the leader that delivers more value for your money this year by Market Force; an award ALDI has received for the last eight years.
View here for a location near you.
WIN A $25 ALDI GIFT CARD
Are you up for a Soccer Brunch Party challenge yourself? Mexico is playing against South Korea, June 23rd at 10AM and June 27th, against Sweden at 9AM. I challenge you to prepare a breakfast under $25.
Thanks to ALDI, I've partnered up with the brand to offer one of you a chance to enter to win a $25 ALDI gift card! It's easy to enter, just follow the instructions below:
Now for that delicious chilaquiles verdes recipe. There are different ways to make salsa verde and even chilaquiles. The traditional recipe would require you grind all ingredients in a molcajete, but I find roasting everything in the broiler much easier and faster. Of course, nothing beats the original method, but some of us don't have that time. If you notice in the recipe below I used chile serrano, but you could use jalapeños too.
When I shopped for the ingredients at ALDI, I was happy to notice that all their fruits and vegetables looked fresh. In fact, I learned that they happen to work with local farm growers to ensure the vegetables arrive from the field to their
stores tp provide the best in the shortest time. As we all know, fresh produce means better quality of food for you and your family.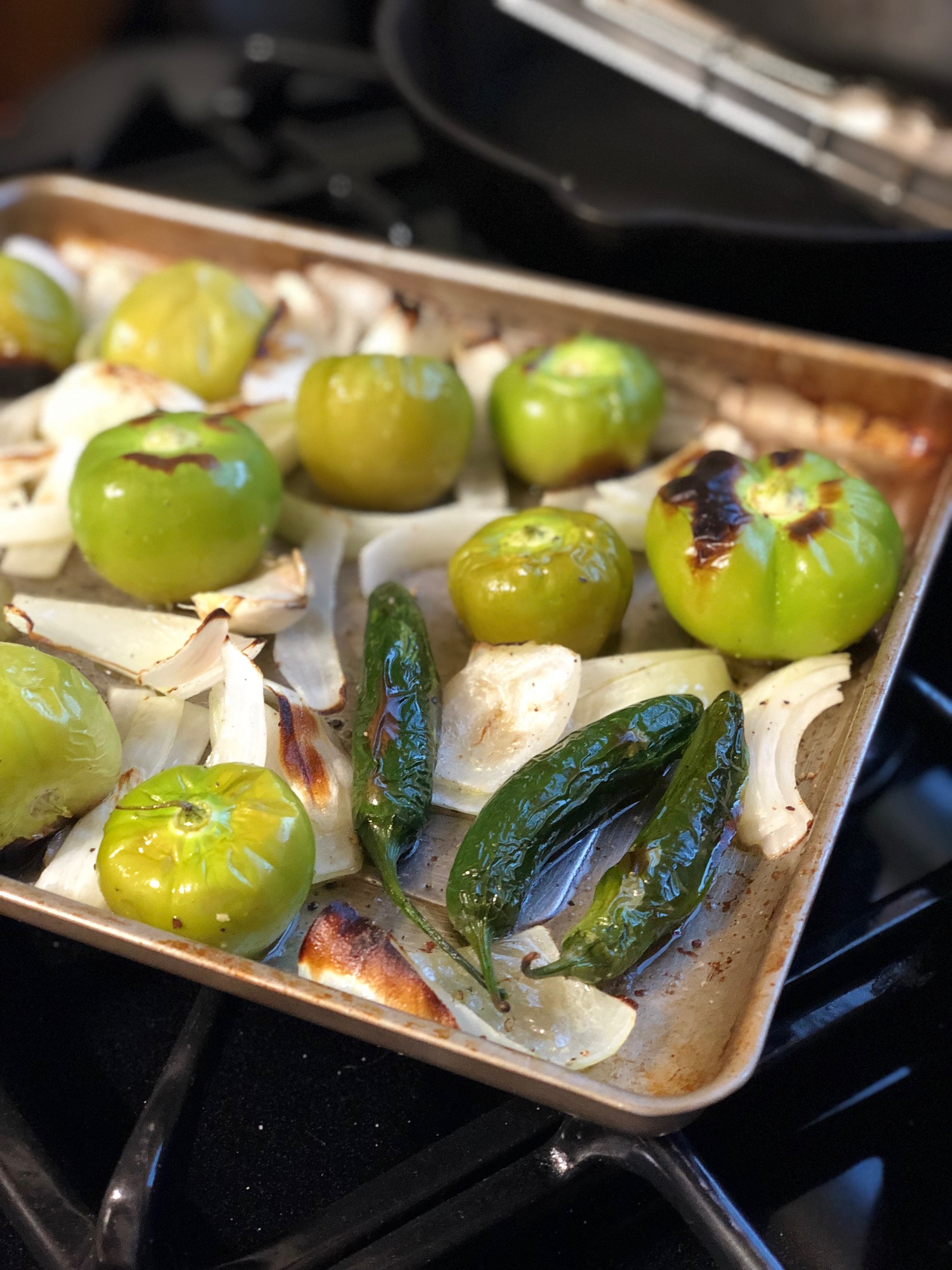 As for the tortilla chips, I also tend to fry my chips longer, keeping them crispier. But everyone is different, you could also keep them soft if you like. To make it even easier, you could buy your favorite tortilla chips and just cook them in the salsa. But I wouldn't recommend that at all, nothing beats homemade chips. Enjoy the recipe below.
Chilaquiles Verdes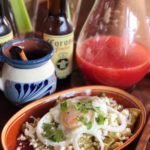 Print This
Ingredients
1 pound tomatillos

3 serrano chiles

3 garlic cloves, unpeeled

1 large onion, coarsely chopped

Olive oil, as needed

Salt and ground black pepper

1/2 cup fresh cilantro leaves

1/4 cup chicken broth or more as needed

Chilaquiles**:

1/3 cup vegetable oil

10 corn tortillas, cut into triangles

3 cups of the Tomatillo Salsa

Salt and ground black pepper

1/2 cup crumbled queso fresco

2 thin slices onion, separated into rings

1/2 cup Mexican crema

1/4 cup chopped fresh cilantro leaves, for garnish
Instructions
Salsa instructions:
Preheat the broiler or oven to 550 degrees F.
Remove husks from the tomatillos and rinse under warm water to remove the stickiness. Put the chiles, garlic, onion and tomatillos on a baking sheet. Season with a little olive oil, and salt and pepper, to taste. Put on a rack about 1 or 2 inches from the heat, and cook, turning the vegetables once, until softened and slightly charred, about 5 to 7 minutes.
When cool enough to handle, peel the garlic and pull off the tops of the chiles. Add all the broiled ingredients to a blender along with the fresh cilantro and puree. Pour in 1/4 cup of chicken broth and blend to combine. Add more broth, if needed, for desired consistency.
Chilaquiles instructions:
Pour about 1/3 cup vegetable oil into a large pan over medium heat. When the oil is hot, add the tortillas, working in 2 or 3 batches, and cook until lightly browned and nearly crisp. Drain the tortillas on paper towels and discard the remaining oil. Wipe the pan with a paper towel.
In the same pan, add the tomatillo salsa and bring to simmer over low heat. Add the tortillas and cook until soft but not mushy, about 5 minutes. Season with salt and pepper, to taste.
Divide the mixture among 4 individual casserole dishes. Top with the cheese crumbles and onion rings. Drizzle with Mexican crema, sprinkle with some chopped fresh cilantro and serve immediately.
Did dad have an amazing day? Of course, Mexico won and the man started his day with his favorite chilaquiles, cafe de olla and Micheladas. The whole family enjoyed this special day and it was topped with a special WIN!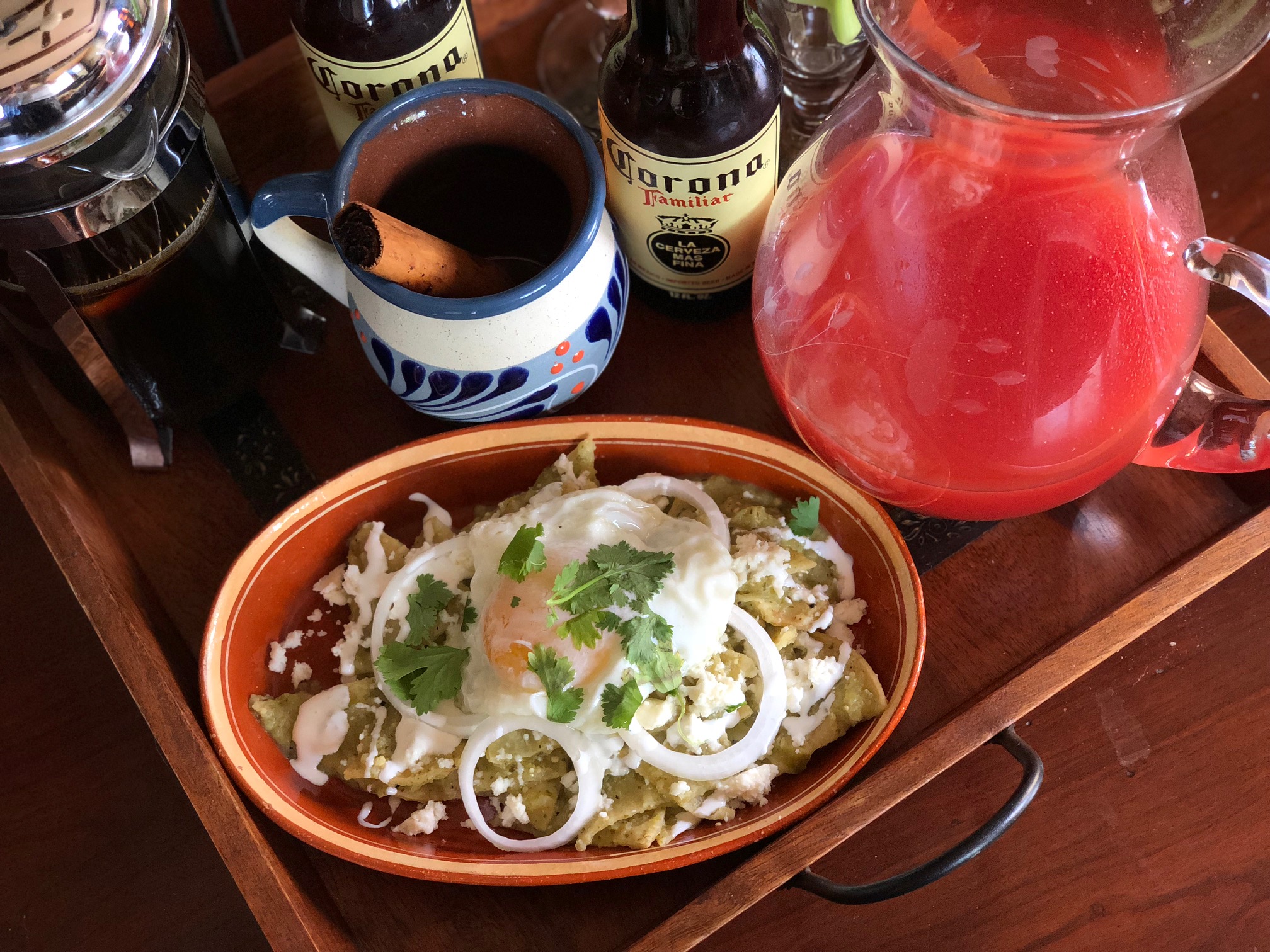 Don't forget to enter the contest and comment below. Let me know what you'll be preparing for the next soccer game.
¡VIVA MEXICO!