Taquitos are small rolled-up tortillas filled with some type of filling, like beef, cheese or chicken. For this recipe we are using lengua de res, beef tongue. The filled tortilla is crisp-fried in vegetable oil. The dish is often topped with condiments such as salsa and guacamole.  In this case we are using Herdez Guacamole Salsa. Corn tortillas are generally used to make taquitos; this the traditional version. But I decided to try something different for my taquitos.  I stopped by my local Mexican market, and picked up a pack of Nopal corn tortillas.  Nowadays, many hispanic markets who make their own tortillas offer seasonal flavors. You may even find them at mainstream grocery stores too.
Now as for the lengua, (tongue) you can find it at any local hispanic market.  When you're ready to cook the lengua make sure you clean it really well. I use a new scrubbing brush to clean mine.  I'm going to spare you any visuals for now because I know some people can't handle it.  Once you cleaned the lengua cut into 5 pieces so it will cook well.  Lengua takes a while to cook, so allow yourself enough time.  While the meat is cooking prepare the Herdez guac salsa, I like to add extra avocado and cilantro to make it thicker.
Taquitos de Lengua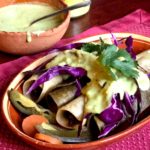 Print This
Ingredients
1 beef tongue (approx 3lbs)

1 medium onion, split in half

1 bay leaf

2 garlic cloves

2 teaspoons of salt, plus more to taste

Corn or Nopal Tortillas

cilantro as garnish

purple cabbage

1 jar of Herdez Guacamole Salsa

1 avocado

salt for taste

1 small can of Herdez Sliced Jalapeños
Instructions
Clean tongue well and cut into 5 pieces.
Place tongue, onion, bay leaves, garlic and salt in a saucepan just big enough to hold them. Bring to a boil over high heat, reduce to a simmer, cover with a tight-fitting lid, and cook until completely tender, four hours depending on the size of the tongue, adding extra water as necessary to keep the tongue mostly submerged.
Carefully remove tongue to a cutting board. Peel the outer membrane off the tongue and discard. Roughly chop or shred tongue into pieces. Tongue can be prepared up through this step up to 5 days in advance. Store in an airtight container or zipper-lock bag in the fridge.
When ready to serve, heat oil in a large non-stick or cast iron skillet set over medium-high heat until hot. Add rolled up taquitos and cook, flipping occasionally, until taquitos are well browned on all sides, 5 to 8 minutes total.
Serve and garnish with your favorite toppings.
Add avocado to Herdez Guacamole Salsa and cilantro to make it thicker.
Notes
This is a sponsored conversation written by me on behalf of HERDEZ®. The opinions and text are all mine.