For the quickest on-the-go breakfast, yogurt and berries always does the trick. I remember as children, my mom always made sure we ate breakfast before we went off to school. Sometimes it was an egg taco or burrito, as they also make great breakfast for those short on time, but once in a while, it was yogurt and strawberries.

Desayuna mucho, come más, cena poco y vivirás.
Yogurt and Fruit Parfaits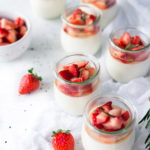 Print This
Ingredients
3 cups vanilla nonfat yogurt

1 cup fresh or defrosted frozen strawberries in juice

1 pint fresh blackberries, raspberries or blueberries

1 cup good quality granola
Instructions
Layer 1/3 cup vanilla yogurt into the bottom each of 4 tall glasses. Combine defrosted strawberries and juice with fresh berries. Alternate layers of fruit and granola with yogurt until glasses are filled to the top. Serve parfaits immediately to keep granola crunchy.
Notes
Recipe courtesy of Rachael Ray