Chorizo con papas is a staple breakfast in Mexican culture. You could eat it alone, in tacos, with eggs and other main dishes that I will share with you over time.  Personally, I enjoy eating chorizo with papa's in a burrito, especially if I'm running late. I can just pack them up and go!
You can purchase chorizo nowadays almost at every supermarket. I like to purchase my chorizo from specialty Mexican meat butchers or markets. They come in different levels of spice, mild, medium and hot. If chorizo isn't available where you live, not to worry, you can always make your own. Recipe coming soon.
You will notice that in this recipe I boil the potatoes, some regions in Mexico just pan fry them. You could do either way, however, I find it faster to boil them first, then pan fry them with the chorizo so they can finish cooking.  Growing up, my mom has prepared them for us both ways. They taste the same to me, it just depends how much time you have in your hands.
Chorizo con Papas - Spiced Mexican Sausage with Potatoes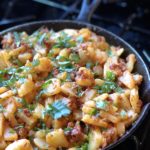 Print This
Ingredients
1 tbsp Salt

8 cups water

2 tbsp of canola oil

2 garlic cloves chopped

1 small onion chopped

3 medium russet potatoes, peeled, cut in square pieces

8 oz pork chorizo

chopped cilantro
Instructions
In a medium pot, boil water with salt. Once it starts boiling, add the chopped and peeled potatoes and boil for 7 minutes. Remove from hot water and drain water. Set aside.
In a large skillet, heat 1 tbsp of oil, add chorizo and cook for about 10 minutes. Remove from skillet and keep about 1 tbsp of fat.  If there's not enough fat left from the chorizo, add the additional 1 tbsp of oil.
In the same skillet, add onions and garlic and heat until transparent, about 2 minutes. Add potatoes and sauté about 5 minutes.
Add cooked chorizo and gently mix with the potatoes for another 5 minutes. Add salt and pepper for taste. Serve immediately with tortillas, topped with chopped cilantro.
PIN CHORIZO con PAPAS on PINTEREST