Chalupas is a famous snack in Mexico, especially in Puebla, where you can find them everywhere from street stands to restaurants.  They're really easy to make and it's a perfect way to use leftover meat.  So I looked into it and prepared an easy to make Green Chicken Chalupas at home that I plan to serve at our Day of the Dead family dinner.  What I like about this recipe is that it doesn't require you to make everything from scratch, you can use Herdez Salsa and still keep its authentic flavor.  Of course, if you like your salsa spicier, you can always blend the salsa with an extra serrano or jalapeno to give it that extra kick.  This may be a tradition that we look forward to celebrating every year with the family.  The recipe is not only easy to make, but it only requires five ingredients and it's perfect as an appetizer or snack. Hope you enjoy it!
Green Chicken Chalupas with Salsa Verde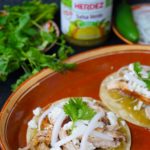 Print This
Ingredients
1/2 cup corn oil

24 3" corn tortillas (mini tortillas)

2 cups of Herdez Salsa Verde

1 1/2 cups cooked shredded chicken

1 1/2 cups of queso fresco

1 medium white onion finely chopped
Instructions
In a large, deep frying pan, heat the oil until hot.
Place tortillas into the pan and soft-fry them, about 4 seconds on each side. They should be soft and not crispy. Drain them well on paper towels as they are removed from the pan. Remove as much of the oil as you can with paper towels.
Heat Herdez Salsa. Spoon salsa verde, about 2TBSP per chalupa.
Top each with shredded chicken, crumble cheese and onion.